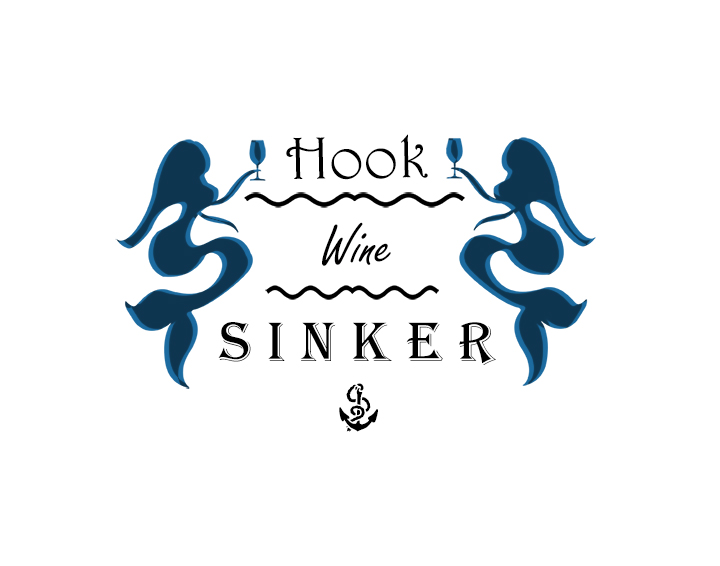 "A Nautical Art & Wine Extravaganza" "Hook, Wine & Sinker" benefiting Twin Palms Center for the Disabled will turn the Mizner Park Cultural Arts Center, into a "Cork Popping, Paint Dropping Extravaganza" on Thursday, August 23rd, 2018 from 6:00 PM to 9:00 PM!
In the beautiful setting of Boca Raton's Mizner Park, guests will mingle and socialize while enjoying delicious hors d'oeuvers paired with exceptional wines alongside community members and local renowned artists.
The event activities will include extraordinary local artists displaying and selling their artwork, live and silent auctions, a live art demonstration and raffles. There will also be live music by International Harpist Ms. Underhay. So, please join us for what will be a funtastic time!
Reserved attendance is $60.00 per person or $75.00 per person at the door and includes all activities food and drinks.
IN THE NEWS:
Check out these great articles:
Society Scene: Hook, Wine & Sinker
Featured Artists
Dorene Ginzler Dorene Ginzler, very early on began formal education in the arts and fell in love with creating. One of the themes found in Dorene's recent works are the vibrant colors seen when she swims with the fish and sea creatures in the underwater world. Here she finds a happy place, using spontaneous brush strokes and gestural marks in her paintings and collage pieces, developing atmospheric landscapes with universal meaning and infinite illusion. Dorene also creates custom designed paintings with colors mixed to match interior décor for individual collectors, business environments and public installations. Ginzler's works have been exhibited in numerous juried art shows in Florida, Michigan, New York, Paris, Helsinki and Osaka.
Visit: Ginzler Studio Gallery, 1420 NW 2nd Ave, Ste #9, Boca Raton, FL 33432
Check out her works: Doreneginzler.com
Catherine Rudnick A little about me: I came to United States almost 30 years ago from Moscow, Russia. I adopted my American name Catherine, however I am still Katia to my family and old friends. So, when I was deciding on my business name, Katia Designs came as a perfect choice. I live in Florida now with my husband and three daughters. Besides my love for jewelry making I really enjoy fitness and nutrition. I was always drawn to art and creating beautiful things with my hands. Jewelry making is my passion. I love finding beautiful pieces of nature and turning them into one of a kind special jewelry. I hope they make you or your loved once feel confident cool elegant beautiful and a little bad to the bone.
You can find hes art work at KatiaDesignShop.Etsy.com/
Elvis Yacub  attended college at Parsons School of Design where he received his BFA in photography. His art style favors many different shapes and geographic patterns within a solid figure. A cool fact about Elvis, is that he is color-blind on the red/green side. He doesn't let that stop him from still experimenting with color.
Check out some of his work at: 561.gallery
Kevin Dodge was born in South Miami and a third generation native, Kevin spent the last 20 years photographing the world of high fashion and other elegant subject matter. As an avid free diver and lifelong water-sports enthusiast, Kevin has now turned his lens underwater, capturing the beautiful, exciting – and at times dangerous – world that belongs to a vast collection of undersea creatures. Kevin's new artwork invites the viewer to pause and take a moment to see the silent, yet thrilling, oceanic marvels that few rarely glimpse.
Check out his works: dodgeocean.com
Missy Pierce Missy Pierce is an artist in residence in Delray Beach, Florida, who creates public art for cities. Her mixed-media paintings may be found in local and on-line galleries and have been exhibited in cities around the world. When she is not teaching art, painting or traveling with her sons, she keeps bees and enjoys yoga–with baby goats! Missy's passion is watching her students cultivate their own creative spirit as they are encouraged to take risks and break the rules. She has a Juris Doctor Degree from the University of San Diego and a Bachelor of Arts Degree from the University of Nevada, Reno. She has completed extensive art programs in Les Angles, France, Boca Raton, Florida and Portland Oregon.
Check out Missy's Website: www.missypierce.com
Tammy Seymour One of the most amazing things an artist will do is to see ordinary, everyday objects in a most unusual way or place and with this talent; the artist can reproduce these objects and accomplish many things.Tammy inherited the talent from her father, who was a dedicated landscape artist, but went on to find her own passion. Personal dedication to environmental conservation had led this artist to paint, of all things, turtles using watercolor, as a major subject matter. This choice of hers has accelerated their plight for protection and survival. Because of this choice, Tammy, simply and happily, became known as the, "Turtle Lady". Becoming an international artist through her, "traveling the world over" for inspiration, Tammy paints from her own original photographs. It is especially important to reproduce the atmosphere from visits, to communicate accurately; the story the artist has to tell. Tammy is an active member of; Gold Coast Watercolor Society, National League of American Pen Women, Bonnet House Fine Artists, Florida Watercolor Society, Art Serve, Broward Art Guild, Miami Watercolor, Palm Beach Watercolor Society, Southern Watercolor Society and the International Society of Experimental Artists.
Check out her work: TammySeymour.com
Stuart Glazer I am originally from Detroit, MI and currently reside in Boca Raton, FL. I was destined for either music or art as I am from a family of artists and musicians. I decided to follow the paths of my parents who were both musicians. I had a successful career as a university music professor and administrator (18 yrs in ND, and 21 yrs at FAU). I was also a classical composer, with numerous music publications and recordings, including a film documentary narrated by Theodore Bikel. I returned to my lifelong love for painting in 2001 after stepping down from an administrative post, and ultimately retired from teaching in 2012. My paintings have been exhibited in galleries in Key West, Naples, Dania Beach, Fort Lauderdale, Delray Beach, and Boca Raton, FL, and in New Hope, PA. Over the years I have worked in many genres, from realism to total abstraction. The consistent unifying aspect to my art is my fascination with color as a means of expression. As a composer I was often described as a "musical colorist." I was motivated by the colorful aspects of sound and sound combinations. The same fascination and motivation has carried over into my visual art, where I can work with actual color and its expressive potential. My figurative work has mostly dealt with the human form, usually female, and colorful pop-art portraits. More recently, I have been experimenting with forms of abstraction. I find the freedom of abstraction to be both challenging and exhilarating.
Check out his work: StuartGlazer.com
Kay Kiria  Kay Kiria has been a local artist in South Florida for over 20 years as painter and poet. As a painter, she was drawing and painting before she could write, found her strength in surreal oil painting and today focuses on abstract surreal expressionist works. Kiria has exhibited her paintings in galleries, shows and juried exhibits from the Keys to Boca Raton. She has been a member of ArtServe, One Ear Society and was a house artist for Streets of Mayfair in Coconut Grove and Cafe Tu Tu Tango at Coconut Grove and Aventura locations and was featured in the Miami Herald for the Coconut Grove Cafe. Kiria has been in the press as a local artist, for her community involvement, teaching and exhibits in the Miami Herald, Our City Weston, Miramar Pembroke Pines City News and Our City Pembroke Pines. In 2005 she had her first successful Solo Exhibit in Coral Gables at the Gilded Hand Gallery, "Kay Kiria: Painter and Sculptor", previous to overseeing the care of an elderly family member and has been working with the elderly teaching art since. Kiria came back to exhibiting in 2016 and is currently a member of the Plantation and Weston Art Guilds and received the 2016 Judge's Recognition Award for the Weston Art Guild's "8th Annual Juried Show" for her oil painting "Sundance". More recently, her painting,"Perdue's Direction" was featured in the FASO Daily Art Show July 2018. Miami Dade, Florida is her hometown and she resides in Broward County, FL with her husband, guitarist, Peter Betan. She is primarily self taught and studied fine art at MDCC Wolfson Campus where she devoted her studies to drawing, ceramics, painting, sculpture and creative writing and won the 1994 Sculpture Award for: "Faces of the Journey" Earthenware. Recently, Kiria received a Certificate of Completion for this year's The Artist as an Entrepreneur Institute with the Broward County Florida Cultural Division at ArtServe. Kiria's works are in private collections in the USA and Europe, teaches art and is actively painting, writing and exhibiting in South Florida. "Painting and writing provides me an intimate experience of imagination, closeness, honesty and hope. My work is a reflection of this delicate balance allowing the viewer and reader to discover these elements in their lives." ~ Kay Kiria
Check Kay out at: ArtByKiria.com
Kaitlin Cardet Growing up in South Florida gave me the opportunity to become an avid free diver, venturing 65 feet below the surface in one breath. Loving the ocean comes with being acutely aware of pollution and being deeply affected by it. Through my art, I work to instill a sense of urgency, appreciation, and responsibility for our Seven Seas. Along my journeys to the seafloor, I have encountered wonderful and beautiful species. By far, one class topped the list: Cephalopods. Cuttlefish, Squid, Octopuses. And of course, the chambered nautilus, whose exponential spiral continues to strike inspiration and wonder into my heart. I have not yet swum with this creature. I create art so that one day I might get the chance. If we want to sustain our local miracle of biodiversity under the waves, people would need to start appreciating and protecting the ocean like it's out home-because it is.
Check out her Youtube Channel work at: https://youtube.com/channel/UC45NnkfMrJ5bJIvJHt60Qwg
Debbie Hite My favorite vacation was when I last picked up a paint brush, pencil, or pastel.  I look forward to my travels every day where I dive back into my papers or canvas.   I get lost into a place that I call "the zone".  Time takes on a whole new meaning.  It's exhilarating!   Every day's chaotic drama doesn't exist.  I feel excited, focused and relaxed all at the same time.  I am so grateful for that time and at then at the end, something wonderful is created on that paper or canvas. This whole journey has been an incredible ride. I love my life!
Check her out on Facebook: facebook.com/DHiteDesigns
Jorge Vallina A professional artist for over 30 years, Jorge Luis Vallina was born in Havana, Cuba in 1959. Currently he resides in Miami, Florida. In 1983 he earned a Bachelor of Fine Arts in Graphic Design in Illustration with a Minor in Psychology from the University of Miami. Jorge has taught classes in illustration, painting and drawing at the University of Miami and at Miami Dade Community College. Mr. Vallina works in a variety of art styles, and uses different mediums such as airbrush, pencil, collage, acrylics , oils, and works extensively with digital imaging programs.
The variety of clients Jorge has worked with in the past with commercial art commissions include, but is not limited to: The University of
Miami • Florida International University • Lufthansa • Reader's Digest • Vanidades Spanish Publications • Ocean Drive Magazine • Bacardi •
Columbia Healthcare Corporation • Harvard Medical • The Miami Herald • Detroit Diesel • Mens Health Magazine • Xerox Corporation •
El Capitan Marine And Fishing Center • Esserman Nissan • 2017 Trophy Featured Artist For Yamaha – Contender
Jorge Luis has received several design and art commissions, some of the most notable ones are the design of a logo and packaging of a
baseball bat for Baseball Hall of Fame and Major League Manager Billy Martin of the New York Yankees. Painted a portrait of the retired
President of the University of Miami Mr. Tad Foote. This painting commission was received from the Coral Gables Gazette newspaper, and
was recognized by the Florida Press Association of Better Weekly Newspapers with an award of "Excellence".
Jorge Luis has exhibited his work in several venues and museums including: The Nova University Museum • The Lowe Art Museum |
University of Miami Coral Gables Florida • Broward Art Guild Museum of Art | Fort Lauderdale • Florida International University | Biscayne
Campus Gallery • The Miami Herald Gallery • The Bacardi Art Gallery • Miami Billfish Tournament • IFB Bank | Miami.
A pleasure Jorge enjoys is passing his knowledge and experience through teaching art classes. He loves to schedule pro bono time for
conducting workshops with groups such as the Girls Scouts, Miami-Dade Public Schools, as well as other public and private
charity institutions.
Check him out on Youtube: youtube.com/watch?v=A5gUatf-oPw
Deyanira Dela Cruz
She was born in the Dominican Republic. She graduated from the Autonomous University of Santo Domingo, in Cinematographic Arts, and in Performing Arts, in the School of Fine Arts. She was the founder and president of the Dante Alighieri Society and School in the Dominican Republic for thirteen years. She created a legacy of dedication and love towards the progress of the Italian language and culture in Santo Domingo, for which, the Italian government decorated with "In Merito Della Repubblica Italiana L 'Onorificenza Di Cavaliere" in 2007. Since the end of 2012, she is completely dedicated to her artistic projects.
Check her out: deyadelacruz.com/
Lynda Sauls Lynda Sauls creates in oil and encaustic. Using these materials individually and simultaneously to express her wonder and faith. Rich bold colors in oil paint magnifying the details of a plant and draws her audience into a place of stillness. Her encaustic works are discernible with an ethereal form, stirring up the subconscious. Lynda lives in S. Florida and is a self-taught artist. Her desire to create has led her in many different mediums and venues such as loss wax jewelry making, etched glass, watercolor, acrylic, faux finishing, murals and picture framing of historical documents. Her passion lies mainly in oil and encaustic works and are displayed in private homes and business. She is president of the Weston Art Guild. Her duties include finding new venues, overseeing their quarterly newsletter, organizing and curating exhibits. She has been featured in the Sun- Sentinel newspaper community section, "Creation Expression, the Miami Herald newspaper "At Home With Art 'Cultural Feeding' " exhibit, and other local magazines such as Our City Weston and Pembroke City News. She was featured in VoyageMIA an outline magazine in 2018. She has participated in over 50 group exhibits, but her first solo exhibit "Prerogative of Creating" was November 2017 at Art Serve. Lynda Sauls works have juried into exhibits: "Inspired by" Coral Springs Museum and "Art Bravo" Art Serve.
"Painting is an act of worship, washing from the soul, the familiar." Lynda Sauls
Check out Lynda's Website: http://www.lyndasaulsartist.com
Lynn Doyal Hand stitching and beading, oil and acrylic paint, paper materials, all done on canvas bring my images to life in an innovative way. Stitchery is unique to every culture and dates back to the earliest civilizations as one of the first creative expressions. My work is a delightful marriage of contemporary design with a reverence for the techniques of the past. The hand crafted detail of my original work invites the viewer into an intimate experience as the details are best seen up close. Incorporating digital technology into my work yields images (36" x 48" and larger) that create a more abstract and dramatic viewer experience. Regardless of the size, this marriage of image, technique, and materials is distinctive and causes people to talk about what they are seeing because there is nothing else like it. I have lived in Boca Raton, Florida since 1986. I am a native Floridian born in Miami. My family lived in Coral Gables and when I was 14 my family moved to Ft. Lauderdale. I attended Nova High School and graduated in 1975.
Check out Lynn's Website: MixedMediaByLynn.com/
Yaacov Heller is a globally recognized and acclaimed Sculptor, Artist and Jewelry Designer. Rated among the world's top sculptors and silversmiths, Yaacov's designs are known for their rare intricacy, attention to detail, unique interpretation of the human form and spirit, as well as for his personal, unswerving commitment to artistic quality. Yaacov can be found at his studio located in Royal Palm Plaza: Gallery 22, 320 Esplanade, Suite 53, Boca Raton, FL 33432
Clara Ines Orejarena
Born in Bucaramanga, Colombia 1962
Clara began painting as a form of expression at a very Young age.  After primary schooling, Clara began her studies of architecture in Bucaramanga and went on to study interior design in London.  The skills she learned through her education along with the artistic talents she developed through art tutelage under renowned artist Hernandez Prada provided her acumen for technique, perspective and manipulation of depth and volume she has today. Clara always had a passion for sculpture.  She had the privilege to develop her craft in a workshop with Nijole Sivickas, from which she learned different ways to express symbolism and who still remains her main influence in pursuing transcendent and abstract subjects. Clara also had the privilege of learning new techniques in Holland from artist Ad Heeren.  From Ad Heeran, and through experimentation with oil-based painting, Clara learned to artistically manage and bring out the expressions in animals as well as to manipulate vibrant colors in various technical manners. In Florida, Clara had the opportunity to take classes with artist Irv Rudley and famous sculptor Yaacov Heller at the Gallery 22, and regularly meets with a group of artists under the direction of renowned artist Hernan Miranda, from which the group develops their skills in realism. Additionally, Clara masterfully creates glass sculptures and pieces of art on a regular basis.  Glass, being a flexible, complex and unpredictable substance has peaked Clara's interests and become one of her greatest strengths. A staple in Clara's artistry is her constant attempt to express and convey her love of nature and animals in her artwork.  She often does this through the portrayal of plants, animals and emotionally charged artwork meant to bring out human emotions and complex ideas.
Currently, Clara's artwork can be described as a form of surrealism.  It utilizes realism in combination with all of the aforementioned elements to express emotion.
Exhibitions:
Artexpo New York- solo Momentum- Pier 94
Spectrum Miami art show
Gallery 22- Boca Raton
Sentir Tropical- Bogota- Casa Santander
100 Pinceladas sin Soledad- Homenaje a Garcia Marquez- Bucaramanga
Hook, Wine & Sinker- Mizner Plaza- Boca Raton
Cystic Fibrosis Foundation- The Ritz-Carlton- Fort Lauderdale